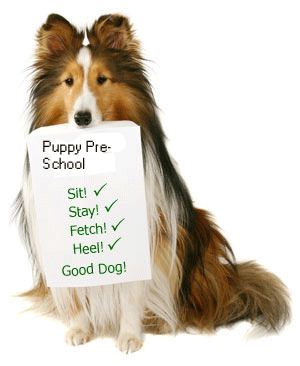 Puppies usually accept novel things and situations openly whilst they are young - usually up to about 16 weeks. After this time, they will still accustom themselves to new things, but not as openly.
Puppies who do not have adequate socialisation during this period may grow into fearful, anxious dogs. Puppy preschool, run by a qualified and experienced trainer offers you and your puppy:
a safe environment to meet other puppies and people;

a controlled introduction to new experiences;

a place to begin learning how to learn.
It is safe to take the puppies to pre-school provided they have had their first immunisation at least 7 days before they attend their first class.
To give your dog the best possible chance of becoming a cherished, happy member of your household, enroll your pup in a class today.
This course aims to teach you how to train your puppy, using effective, force-free methods.
The course provides guidance on:
Socialisation

Jumping up
Toilet training
Mouthing and play biting
Foundations of training
Using positive methods to teach some basic behaviours including:
Drop

Sit

Go to your mat

Settle
Puppy class is 4 weeks and costs $160.00 per puppy.
Payment is required upfront and is non-refundable.

Where

Classes are held at Selwood Veterinary Hospital, Hazelbrook.

When

Classes are regularly held on Tuesday evenings.

NB: The first class is theory night - do not bring your pup to the first lesson.
See the registration page to enrol or phone
0402 063 664
to discuss.